Our Products
The manufacturing division of Caledonian Plywood Company Ltd manufacture a range of high performance fire rated doors and door sets in a range of weights and finishes. CP Fire doors are built to a superior standard and as an environmental option we can offer full FSC® Certification if requested on most of our bespoke products. 
At Caledonian Plywood, we have been manufacturing Fire Doors and Door sets in increasing volumes since 1990. We have established ourselves by utilising a slow growing softwood (CP Secure) and a plantation grown hardwood (CP Light) core along with many other approved tried and tested Door cores from manufacturers throughout the world, CP Fire Doors offer safety and stability in extreme conditions - having been rigorously tested at each stage of their development. 
Our Fire Doors have been tested by EXOVA BM TRADA and Chiltern Fire in a plain blank form and finished lipped fire doors/sets, with glass apertures up to 0.72m2. CP Fire Doors and Door sets are covered by numerous fire tests and global assessments, giving peace of mind. The range is complemented by a complete bespoke manufacturing service including lipping, aperturing, dimensioning, veneering in any real wood veneer of your choice and to complete the job we also offer a pre-finishing option.  
The CP Fire Doors offer complete 'peace of mind' that the product is of the highest quality and a superior alternative manufactured in the UK, with the added benefits of a bespoke manufacturing service. 
We are currently undertaking projects in a variety of locations on behalf of existing customers including Hospitals. Schools, Hotels, and shops throughout the UK in addition, we have a high demand from merchants for our FD30 and FD60 un-lipped solid core door leafs for the domestic market.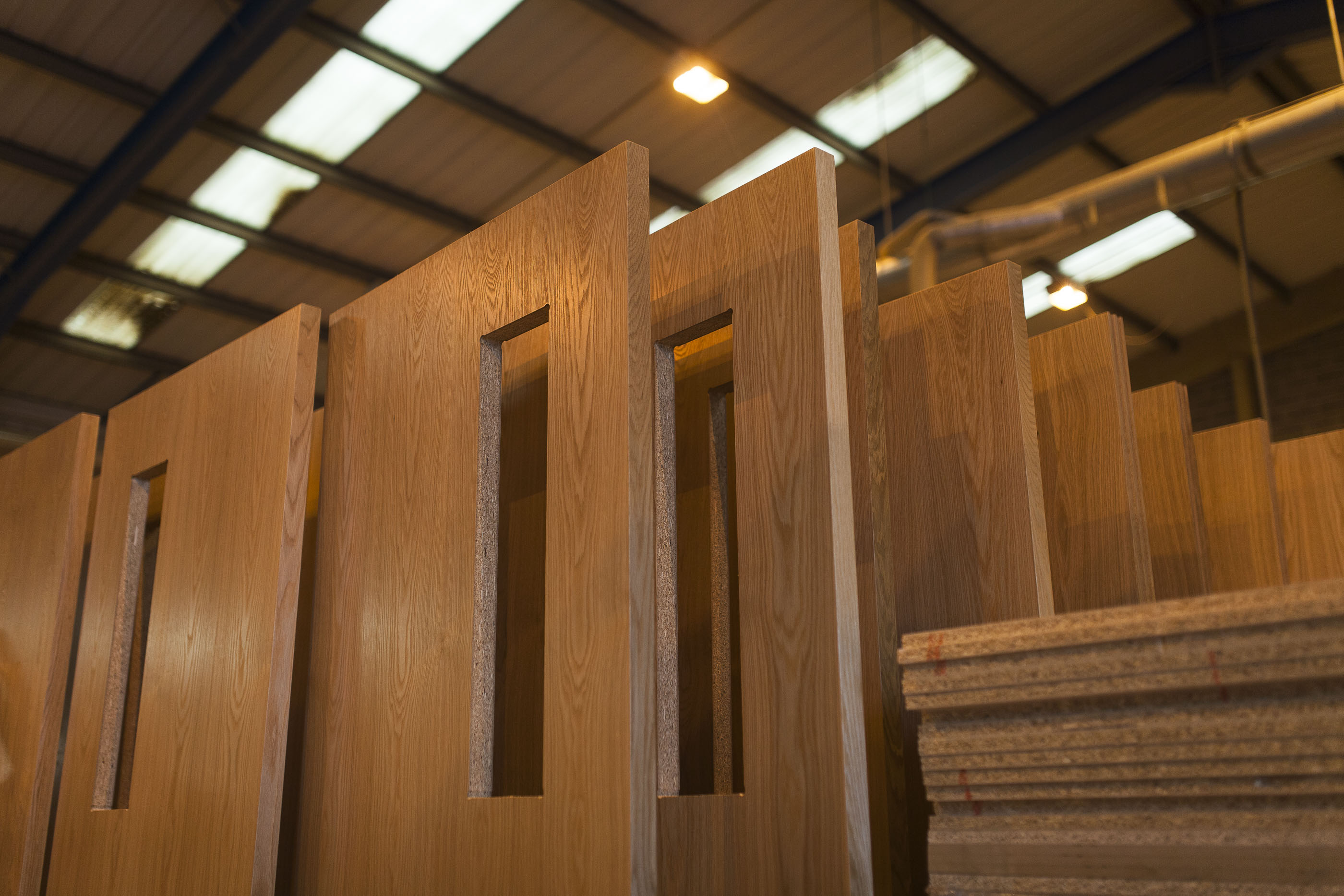 Q-Mark
Don't take the risk - Insist on third party certification: EXOVA BM TRADA Q MARK.
As a specifier, purchaser or contractor, you are likely to be procuring a wide range of products and services. In the case of a complex and potentially lifesaving product how can you be certain that the product you choose will perform and that you have done everything you can to mitigate against the risk of failure? By specifying that the product has independent third party certification.
What is independent third party certification?
Independent third party certification is the highest form of endorsement a product can achieve and is being increasingly specified. 
To attain third party certification, a manufacturer and their product will have to undergo a rigorous process. 
The benefits of Independent Third-Party Certification
Here's why you should specify independent third party certification:
Consistency of product quality at all times
Independent verification by a qualified expert
Ensures product is fit for intended purpose
Ensures the product is safe to use
Mitigates against the risk of failure
A recognised and accepted quality standard 
A commercially sound investment 

EXOVA BM TRADA Q MARK CERTIFICATION
Q-Mark is the brand name applied to the scheme operated by EXOVA BM TRADA Certification, one of the UK's foremost certification bodies with over 35 years' experience and accredited by UKAS since 1991
Q-Mark is a quality mark for a product identifying it as having been assessed against specified performance levels through independent accredited tests. It also shows that every product manufactured will offer the same level of performance through integration with an approved Quality Management Scheme. Continuous performance and production are also checked through audit testing and inspections.
Why choose EXOVA BM TRADA Q-Mark certification?   
One of the UK's leading providers of independent third party certification
Independently accredited by United Kingdom Accreditation Service (UKAS)
Experts in the field of doors and windows
Rigorous eligibility and on-going membership criteria
Specialist full-time customer specific auditors
Consistency in auditing procedures across multiple manufacturing sites
Regular audits conducted to ensure consistency in product manufacture
Regular full scale sample testing to ensure consistency in product quality
Continuous review process to ensure scheme operates to highest standards
To be confident that the product you specify will perform as expected, make sure you include the following clause in your specification: 'All (product type) must be fully manufactured under the appropriate EXOVA BM TRADA Q-Mark scheme'.
For further information you can view our door brochure here: Fire Door Brochure